BRIT PREMIUM JUNIOR
SMALL BREED – 50% CHICKEN
Dry food for junior small breeds 1-10kg
COMPLETE FEED FOR DOGS. CHICKEN RECEPTURE FOR YOUNG DOGS (1-12 MONTHS) SMALL BREEDS (1-10KG). SUITABLE FOR BREASTS AND NURSING BITCHES

PROMOTES IMMUNE DEFENSE AND HEALTH
Fruits, herbs and turmeric are naturally rich in vitamins and have a positive effect on the immune system. Mannanol and fructo oligosaccharides are good for intestinal flora.
OPTIMAL BODY AND MUSCLE GROWTH
High content of dried, boneless chicken – 55% chicken
– a natural source of digestible protein
– for optimal body and muscle development.
HEALTHY SKELETAL DEVELOPMENT
Collagen, crustacean peel and green-lipped mussel are naturally rich in cartilage-protecting substances and promote a healthy development of joints and cartilage. Sustains a balanced content of calcium and phosphorus for proper bone and tooth development.
Contains the extract of yucca Shidigera which has beneficial effect on the GI tract
Contains all the necessary trace elements in chelate form, which ensures their high digestibility
It does not contain soy, beef and pork – which are weakly digestible sources of protein, which leads to low digestibility of the feed and excessive loading on the intestinal tract, and may cause allergic reaction.
Does not contain GMO ( genetically modified organisms)
Brit is made entirely of ingredients of natural origin.
COMPLETE FEED FOR DOGS. CHICKEN RECEPTURE FOR YOUNG DOGS (1-12 MONTHS) SMALL BREEDS (1-10KG). SUITABLE FOR BREASTS AND NURSING BITCHES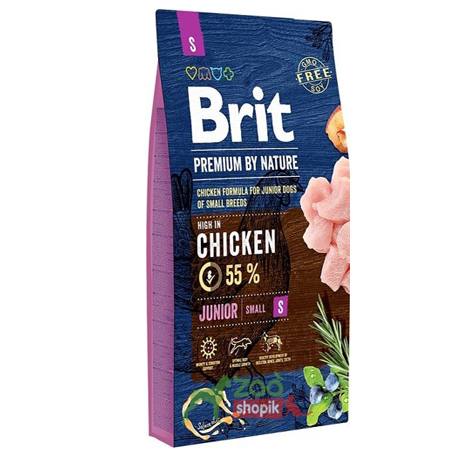 Ingredients & Nutrition
INGREDIENTS

Composition:

55% chicken (30% dehydrated, 25% boneless meat), chicken fat (canned tocopherols), oats, wheat, salmon fish oil (2%), corn, dried apple, hydrolyzed chicken liver, brewer's yeast, collagen , crustacean shells (source of glucosamine, 260 mg / kg), cartilage (source of chondroitin, 180 mg / kg), herbs and fruits (cloves, citrus, rosemary, turmeric, 150 mg / kg), mannoligosaccharides (150 mg / kg), fructo-oligosaccharides (100 mg / kg), yucca mojave (100 mg / kg), dried chamomile (90 mg / kg), green mussels (source of glycosaminoglycans, 60 mg / kg), blueberries (6 0 mg / kg).

Analytical components:
crude protein 32.0%, crude fat 20.0%, moisture 10.0%, crude ash 6.8%, crude fiber 2.0%, calcium 1.5%, phosphorus 1.1%, omega -3 fatty acids 0.3%, omega-6 fatty acids 2.7%.
GUARANTEED NUTRITION
CALORIE CONTENT (CALCULATED)
GUARANTEED ANALYSIS
55%

chicken

30%

dehydrated

25%

boneless meat

2%

almon fish oil

32%

crude protein

20%

crude fat

10%

moisture

2%

crude fibe

1.5%

calcium

1.1%

phosphorus

0.3%

omega -3
Feeding Instructions
Feeding table:

May be served dry or moistened with lukewarm water. Food should be divided into 1-2 equal portions during the day. The recommended daily amount is shown in the feeding table. When serving Brit Premium for first time, use smaller amounts and mix it with previous food and gradually increasing the portion of Brit Premium. Always make sure your dog has plenty of fresh water.

Additional Information
Additional Information
Ratings & Reviews

Write a review