BRIT DOG PRODUCTS
As our lives become more stressed so does your dog's. We have chosen a product that meets all the requirements for being a healthy food and have options for different dogs.
Brit is easily digested and hypo-allergenic coming from lamb, salmon, rice, and potatoes. All ingredients are GMO free (where applicable) adding to the tolerance of the final product, preventing allergies, and increase immunity support.
A balance of amino acid is used for the good utilization of digested proteins. Maximizing the potential for the creation of tissue in the dog's body from the digested amino acids.
A combination of special ingredients including FOS, MOS and Yucca, help support digestion, and the immune system. Yucca brings, vitamins, minerals, vitamin C, and iron, to the combination. It will help in ailments such as arthritis and help regulate glucose levels.
The addition of salmon oil helps keep blood flowing, and mental alertness.
Known ingredients glucosamine, chondroitin, and MSM and trace elements have been added to help in reducing arthritis, and cartilage damage.
Trace elements help digestion, skin, blood and reducing free radicals helping in living longer and healthier.
Known proteins Soy, Beef and Pork are not included for their ability to cause intestinal stress, and probability of allergies. Brit Care has not GMO products and is produced from totally natural source ingredients.
Prevention with nutrition
Brit Care offers top quality dog ​​food designed to protect animals' bodies from negative environmental effects. We start from carefully selected
high quality raw materials, such as lamb, salmon, stocking, duck and rabbit and produce well-balanced, hypoallergenic feed that is easy to digest and prevents feed intolerance. Brit Care also contains functional components that strengthen the immune system, provide better public health and help reduce the risk of serious illness.

Why is Brit Care hypoallergenic?
Prolonged use of certain types of protein in dog food has led to an increase in food allergies. These protein types include wheat, corn and soy as well as common meats such as chicken, beef and pork. Excluding typical allergens from the diet is a way to reduce the stress on your dog's body and prevent feed intolerance.
We care about your dog's health in the long run
Brit Care contains a variety of special ingredients that have a positive effect on the nutritional properties of the feed. Unique nutrients with functional components that promote the immune system and health and help reduce the risk of serious illnesses.
Brit Care offers a complete range of dog food – choose the right nutrition based on your dog's life phase and needs!
Cereal-free feed with salmon that contains all the important amino acids in optimal proportions, which means that they are absorbed by the body more efficiently than other types of protein. Salmon also contains high levels of omega-3 fatty acids (DHA and EPA), which play an important function in the quality of the skin and coat, the development of the senses and cognitive skills, and cardiovascular health.
Available for puppy, adult & senior.
LAMB & RICE
Lamb is very easy to digest and contains high levels of easily absorbed polyunsaturated fatty acids. The complete amino acid profile has been optimized to nourish muscles and
tissue as well as keeping the dog in perfect shape. Rice is a very easily digested source of carbohydrates and also gluten-free.
The Lamb & Rice series is available for puppies, adults & seniors.
SALMON & POTATOES
Cereal-free feed with salmon that contains all the important amino acids in optimal proportions, which means that they are absorbed by the body more efficiently than other types of protein. Salmon also contains high levels of omega-3 fatty acids (DHA and EPA), which play an important role in the quality of the skin and coat, the development of the senses and cognitive skills, and cardiovascular health.
Available for puppy, adult & senior.
SPECIAL NEEDS
All dogs experience periods when changes in daily routine or physical fitness mean that the usual nutritional intake is not enough. Now we introduce well-balanced feed designed to meet the specific needs of overweight dogs, dogs with increased energy needs, and dogs with sensitive digestion or feed intolerance.
Weight Loss – Feed based on rabbit & rice for overweight dogs.
Endurance – Feed with duck & rice for active dogs with high energy consumption.
Dog Show Champion – Feed with salmon & herring and night light oil that keeps show dogs in excellent shape.
Sensitive – Cereal-free feed with deer meat & potatoes for very sensitive dogs.

Small breeds have special nutritional needs. Due to their small size, they are exposed to higher concentrations of dust and other harmful substances, leading to elevated stress levels and an extreme strain on the body's external and internal protective barriers: fur, skin and immune systems in mucous membranes and cells. Their unique anatomy, short digestive tract and fast digestion in comparison with other dogs, require a high nutrient concentration in small portions.

Developed for our smallest friends
The Brit Care Mini is specifically designed to meet the needs of small breeds. It is grain-free and contains a high proportion of meat and also functional substances that favor the immune system, fitness, heart, fur, skin, teeth and skeleton of very small dogs.
Small dogs live longer than large dogs. They have a higher burn and a relatively small stomach so they need to eat foods with high nutritional value, full of vitamins and minerals that support teeth, heart, joints, hair and general vitality. In addition, small dogs are often fine tasters so high taste is A and O!
Why fresh meat?
A new production technology allows us to use fresh lamb and fresh salmon without bones. Fresh meat is rich in essential amino acids that nourish muscle and tissue. Fresh meat provides better taste and a positive effect on digestion in the long term.
The Brit Care Mini contains at least 50% meat, of which 20% is fresh meat which is added at the end of the manufacturing process.
This is the ultimate feed for small breeds such as Pug, Chihuahua, Papillon, Yorkshire Terrier, Affenpinscher et al.
Available in 6 different variants, including one puppy feed.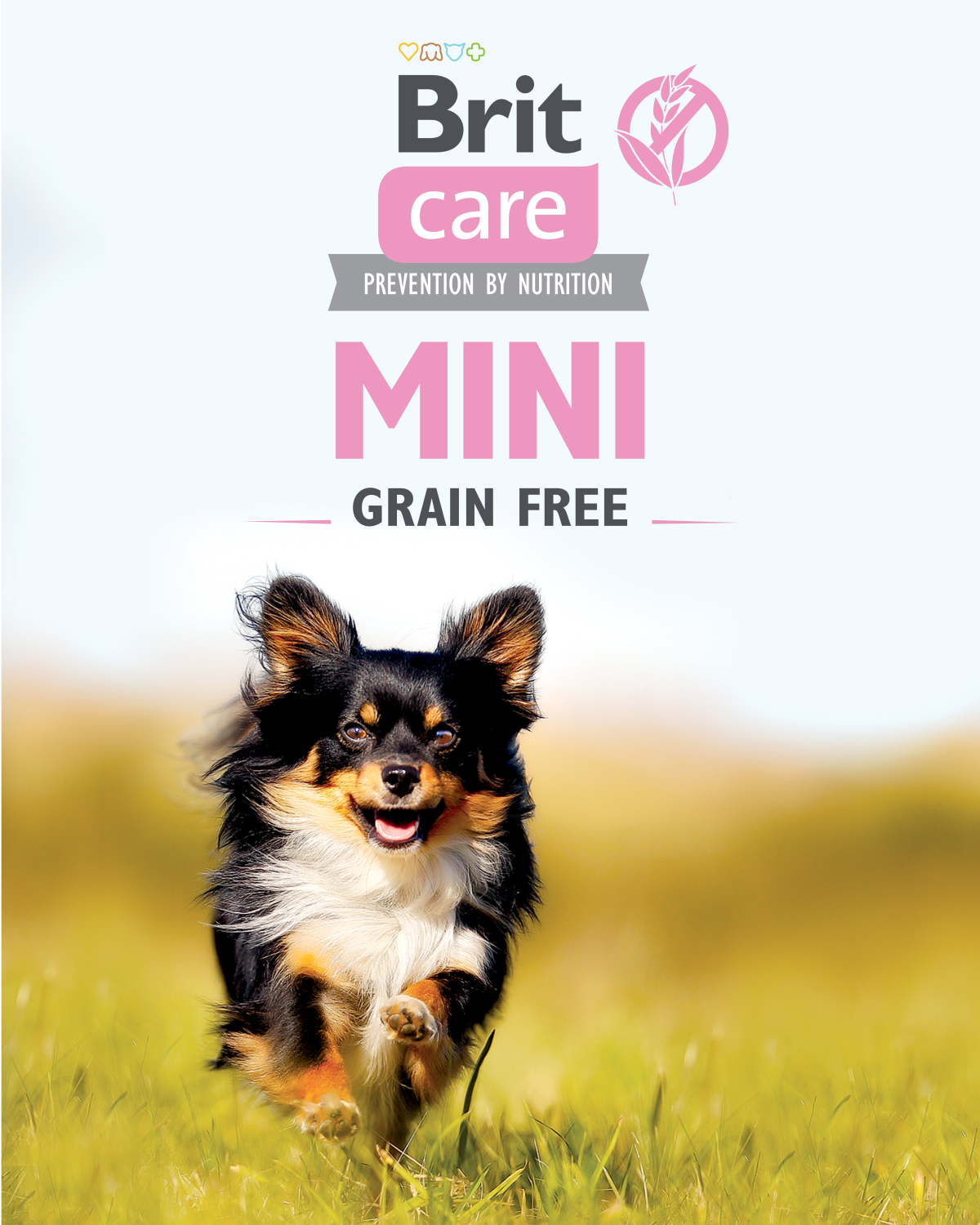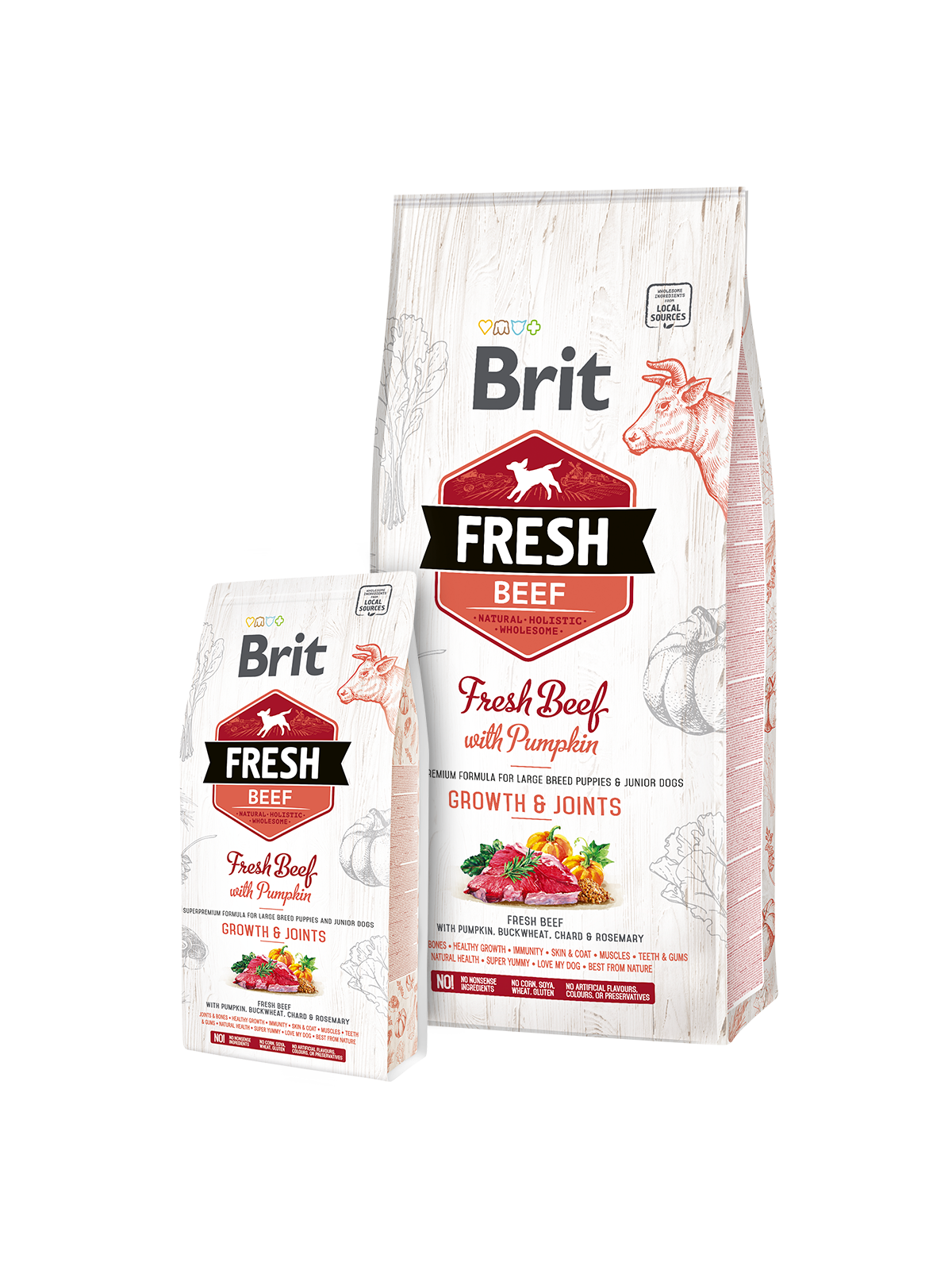 Brit Fresh is a natural Raw Materials, Healthy & Extra Good
Brit Fresh is a new range of holistic dog food made from large quantities of fresh meat along with functional vegetables, fruits and herbs. The formula is rich in natural sources of amino acids for healthy muscles and tissues and the fresh meat gives a great taste which makes even the most discerning dog appreciate the food.
Brit Fresh is completely free of artificial dyes, flavorings and antioxidants. In addition, there are no empty calories or ingredients that do not function.
Feel free to supplement with Brit Fresh wet food.
Meat is the main ingredient and the only animal source of protein
Brit Fresh contains 40% fresh meat + another 10-30% dried meat. Perfect for those who value high taste!
Choose from fresh turkey, duck, chicken, beef or fish.
Holistically composed
The feed contains the necessary amounts of essential nutrients (protein, fats, carbohydrates, fiber, vitamins and minerals) in balanced proportions for good body function.
Healthy crops from local farms
The feed is carefully prepared and contains useful crops such as mangold, beetroot, pumpkin, buckwheat, zucchini and berries and herbs. Most ingredients come from local suppliers.
In addition to Brit, we also manufacture feed under the Carnilove brand. Carnilove is a super premium dog food, created to satisfy dogs' natural needs.
The Wild
Carnilove has been designed to take into account the history of cohabitation between humans and dogs. The ingredients and their proportions have been developed according to the dogs' diet before the emergence of agriculture, but the production is based on modern processes and techniques.
Grain-Free
Because cereals are not part of the natural diet of wild dogs, Carnilove is completely cereal-free.
Game Meat
Meat and other animal tissue are sources of protein, the building blocks of which muscles are made up. It is very important that dogs get the high quality protein they need every day. The large selection of carefully selected protein sources in Carnilove, such as reindeer, duck, pheasant, turkey, lamb, wild boar and salmon, takes into account the food preferred by wild dogs. All meat and animal based ingredients in Carnilove are selected with quality as the most important criterion and come from regulated farms in the Czech Republic, Germany, Sweden, Scotland, Norway and Australia.
Carnilove Fresh
In the fall of 2018, 3 new varieties of fresh meat were launched. Carnilove Fresh Meat is a unique recipe, with a lot of fresh meat in combination with different vegetables, berries and herbs, to give your
dog a balanced and natural diet. Fresh meat is the best source of easily digested protein with lots of natural flavor and nutrients of the highest possible quality. Choose between Carp & Trout, Chicken & Rabbit or Ostrich & Lamb for small breeds.