BRIT FELINE PRODUCTS
Have been developed of highly digestible hypo-allergenic ingredients chicken, salmon turkey and rice, that don't burden the organism, or inhibit the creation of unwanted metabolic by-products. It creates an optimal internal environment. The composition has been balanced to support immunity, which will improve their health; eliminating the risk of serious disease.
Immunity support will balance the microflora supporting and strengthening it's internal defence towards disease, with MOS , and fructo-oligosaccharides. Added nutrients and trace minerals improve and support the basic life function of your feline. Maintaining a healthy skin and coat, with it's added omegas and fatty acids. Increasing dental care by optimizing kibble size and balancing the ratio of calciuk and phosphorus.
The combination of vitamin E and organic selenium create a protective barrier for cells, eliminating free radicals, increasing your pet's health and life. A balance of products help you determine which product is best suited for your cat.
Prevention with nutrition
Brit Care offers cat food of the highest quality, designed to protect the animals' bodies from negative environmental effects. We use carefully selected, high quality raw materials, such as chicken, lamb, salmon, and turkey, and produce well-balanced, hypoallergenic feed that is easy to digest and prevents feed intolerance. Brit Care also contains functional components that strengthen the immune system, provide better public health and help reduce the risk of serious illness.
Why is Brit Care hypoallergenic?
The absence of the most common allergens, including maize, soy and wheat, ensures high tolerance to the feed and prevents the risk of indigestion or allergic reactions.
High meat content
Brit Care cat food contains 50-60% meat. Meat is an invaluable source of amino acids in a cat's diet. cats have a short digestive tract and their bodies naturally absorb nutrients from animal diets
Balanced minerals and sea towers.
A well-balanced mixture of calcium, phosphorus, sodium and magnesium gives a cat's body the minerals it needs, which together with the anti-inflammatory effects of oatmeal extract ensures that the kidneys and urinary tract stay healthy.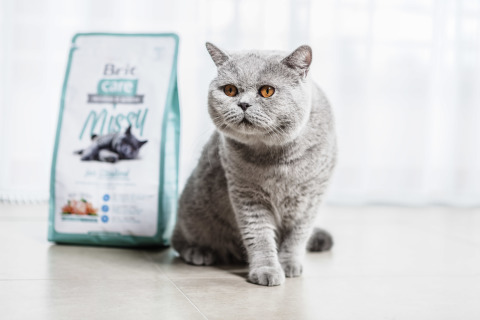 Into the Wild
Grain-free recipes that are rich in game meat, such as salmon, turkey, duck, pheasant, lamb, reindeer and wild boar, provide the necessary proteins, fats and vitamins for optimal physical health and the best possible immune system. Contains wild berries, vegetables and herbs that are natural sources of vitamins, antioxidants and other important nutrients.
Cereal-free & potato-free
Cats eat almost exclusively meat. Their anatomy and metabolism have been adapted to process food from animal sources. The natural diet for cat animals contains neither cereals nor potatoes.
High meat content from game
Carnilove cat food has an animal content of as much as 70-75%. The unconventional sources of protein in Carnilove are rich in nutrients, unsaturated fatty acids and amino acids that strengthen muscles and tissues. The meat and animal-based ingredients in Carnilove are selected with quality as the most important criterion and come from regulated farms in the Czech Republic, Germany, Sweden, Scotland, Norway and Australia.
CARNILOVE FRESH
In the fall of 2018, 2 new varieties of fresh meat were launched. Carnilove Fresh Meat is a unique recipe, with a lot of fresh meat combined with different vegetables, berries and herbs, which gives your cat a balanced and natural diet.
Fresh meat is the best source of easily digested protein with lots of natural flavor and nutrients of the highest possible quality. Choose between Carp & Trout for neutered cats and Chicken & Rabbit "Gourmand" for picky cats.