PREMIUM ADULT – SMALL BREED 50 % CHICKEN
Dry food for adult small breeds 1-10kg

$2.00 – $64.00

Complete PREMIUM food for Adult Dogs of Small Breeds (1-10 kg). Full-time dry food for adult dog breeds. The balanced formula, fully provides all the necessary nutrients, vitamins, minerals, and also promotes the maintenance of the health of dogs of small breeds.
BRIT PREMIUM ADULT
SMALL BREED – 50% CHICKEN
Dry food for adult small breeds 1-10kg
The content of salmon oil and Omega 3 keeps skin healthy and fur shiny. The food is tasty, digestible and rich in vitamins and minerals. The contents of prebiotics strengthens and maintains metabolism as well as immune system. The feed does not contain soy, chemicals or preservatives.
Small breeds have a small digestive system and yet a relatively large nutritional need.
Therefore, feed intended for small breeds must have a high concentration of nutrients (protein and energy) and be very easy to digest. Small breeds have much greater need for active antioxidants that positively affect the immune system and positively affect the life span of small dogs. Also, an optimal content of omega 3 and omega 6 fatty acids, which stimulate the development and activity of the brain and nervous system, is essential for vitality and mood.

FRESH SKIN AND GLOSSY FUR
Salmon oil is a natural source of omega-3 fatty acids for a fresh, thick and shiny coat
PROMOTES IMMUNE DEFENSE AND HEALTH
Fruits, herbs and turmeric are naturally rich in vitamins and have a positive effect on the immune system. Mannanol oligosaccharides and fructooligosaccharides are good for intestinal flora
REDUCES STRESS AND PROMOTES THE HEART FUNCTION
A high content of omega-3 fatty acids
gives a positive effect on cardiac function with chamomile and blueberries which contributes to better stress management.
Contains all the necessary trace elements in chelate form, which ensures their high digestibility
It does not contain soy, beef and pork – which are weakly digestible sources of protein, which leads to low digestibility of the feed and excessive loading on the intestinal tract, in addition, they can cause allergic reactions;
Does not contain GMOs (genetically modified organisms) – feed Brit is made entirely of ingredients of natural origin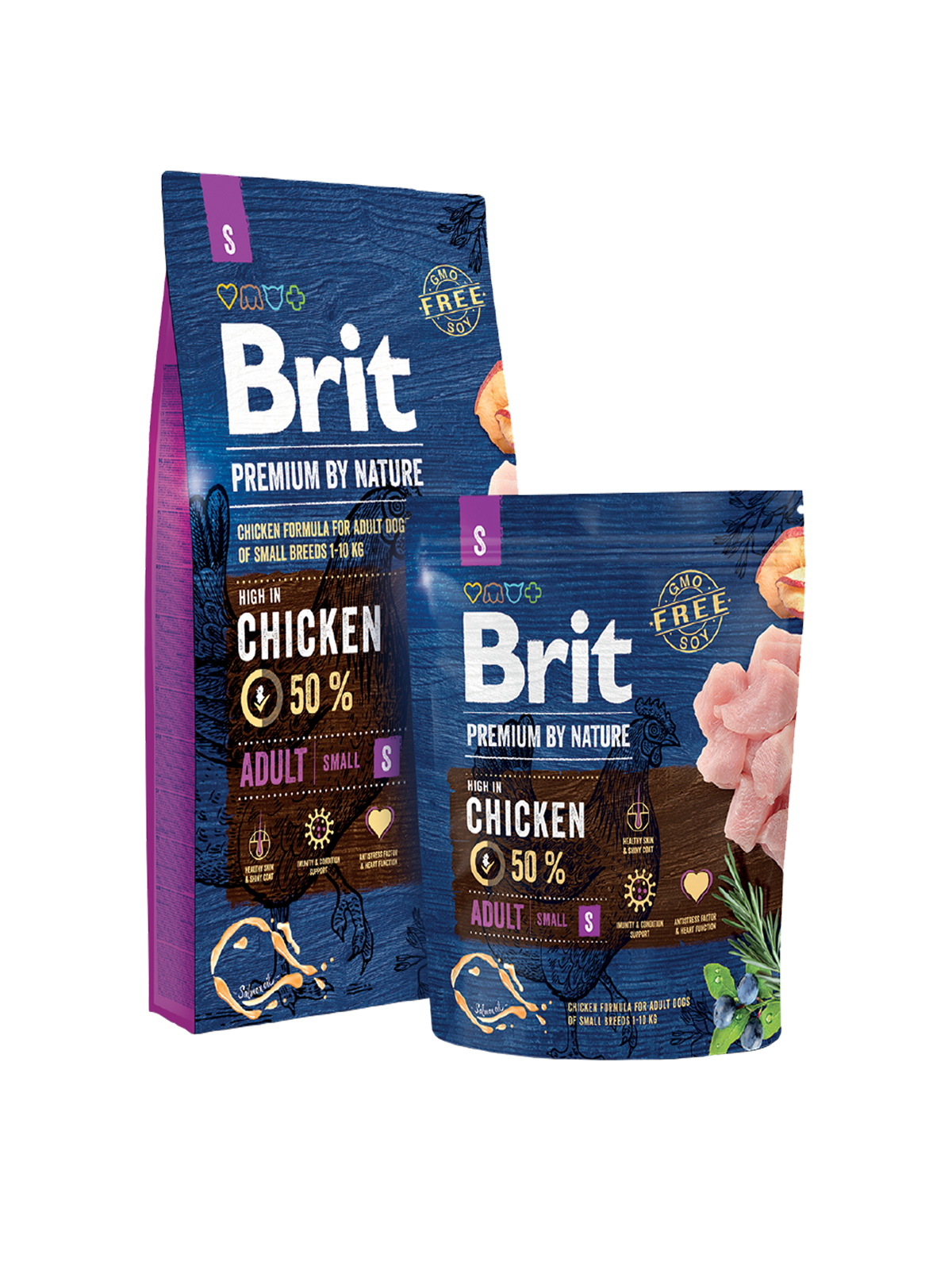 Ingredients & Nutrition
INGREDIENTS
Composition:
chicken 50% (dehydrated 30%, deboned 20%), oats, wheat, chicken fat (preserved with mixed tocopherols), corn, apples dried, salmon oil (2%), hydrolyzed chicken liver, brewer ́s yeast, collagen, crustacean shells (a source of glucosamine, 210 mg/kg), cartilage (a source of chondroitin, 150 mg/kg), herbs & fruit (cloves, citrus, rosemary, curcuma, 120 mg/kg), mannan-oligosaccharides (120 mg/kg), fructo- oligosaccharides (90 mg/kg), Mojave yucca (90 mg/kg), chamomile dried (80 mg/kg), green-lipped mussels (a source of glycosaminoglycans, 50 mg/kg), blueberries dried (50 mg/kg).
Analytical ingredients:
crude protein 28.0%,  fat content 16.0%, moisture 10.0%, crude ash 7.2%, crude fibre 2.5%, calcium 1.5%, phosphorus 1.1%,  omega 3 0.2%, omega 6 1.85%
Nutritional composition:
vitamin A (3a672a) 15 000 IU,  vitamin D3 (E671) 1 000 IU,  vitamin E (α-tocopherol) (3a700) 400 mg,  biotin (3a880) 0.5 mg,  choline chloride (3a890) 500 mg,  zinc chelate of amino acids hydrate (3b606) 70 mg,  ferrous chelate of amino acids hydrate (E1) 60 mg,  manganese chelate of amino acids hydrate (E5) 30 mg,  potassium iodide (3b201) 0.5 mg,  cupric chelate of amino acids hydrate (E4) 12 mg,  organic form of Selenium produced by Saccaromyces cerevisiae CNCM I-3060 (selenised yeast inactivated) (3b8.10) 0.2 mg, 
Contains EU approved antioxidants: tocopherol extracts from vegetable oil (1b306), ascorbyl palmitate (1b304) & rosemary extract
Metabolizable energy:
3 820 kcal/kg
GUARANTEED NUTRITION
CALORIE CONTENT (CALCULATED)
3 820

Kcal/Kg
GUARANTEED ANALYSIS
50%

chicken

2%

salmon fish oil

2%

corn

28%

crude protein

16%

crude fat

10%

moisture

7.2%

crude ash

2.5%

crude fiber

1.5%

calcium

1.4%

phosphorus

1.85%

omega-6 fatty acids
Feeding Instructions
| | | | | |
| --- | --- | --- | --- | --- |
| Body weight of dog (kg) | 1 | 2 | 4 | 5 |
| Daily amount (g/day) | 30 | 40 | 55 | 70 |

Additional Information
Additional Information
| | |
| --- | --- |
| Weight | N/A |
| Weight | 1 KG, 8 KG |
Ratings & Reviews

Write a review