BRIT CARE MINI ADULT GRAIN FREE- LAMB
Hypoallergenic Formula for Adult of Mini Breeds

Grain-free hypoallergenic formula for adult dogs of mini breeds
Complete super premium class food with a hypoallergenic formula, not containing wheat, soy or other genetically modified cereals. Recommended for dogs that do not tolerate gluten, animals with food allergies and with a sensitive digestive tract.
Brit Care Grain Free Adult Mini Lamb food for adults, miniature dogs, rich in EPA and DHA, strengthening the animal's resistance, protecting the skin and ensuring a beautiful coat appearance. Omega 3 and omega 6 fatty acids also prevent inflammation and help heal the morning and scratches.
Brit Care feed is also high-quality animal protein, the source of which is lamb meat. Lamb stands out against other meats with good bioavailability and low-fat content, so it is a valuable component of the animal's diet.
Brit Care food for miniature dogs also contains berries, dried apples, rosemary, turmeric, milk thistle, sea buckthorn, chamomile, cloves, sage contained in the diet, support the digestive system. Chamomile and sage are herbs that have an antibacterial effect – their presence in the diet promotes the health of teeth. It is also worth adding that the brewery yeast present in the recipe is a valuable source of vitamins.
Brit Care is also a source of chondroitin and glucosamine, ingredients supporting the work of joints, protecting joint cartilage and accelerating its regeneration, and inulin – a prebiotic that stimulates the development of normal intestinal bacterial flora. Inulin also increases the feeling of fullness, thus preventing overeating.
Brit Care Grain Free Adult Mini Lamb granules are sized to match the small jaws of these miniature favorites, are easy to chew, making the animals eager to eat them. Dogs of miniature breeds often have problems with their teeth, which is why preventive oral hygiene is very important and eating dry food support teeth. The dog chews delicious, crunchy granules, massages the gums and mechanically cleans his teeth, thus preventing the formation of plaque and periodontal disease on them.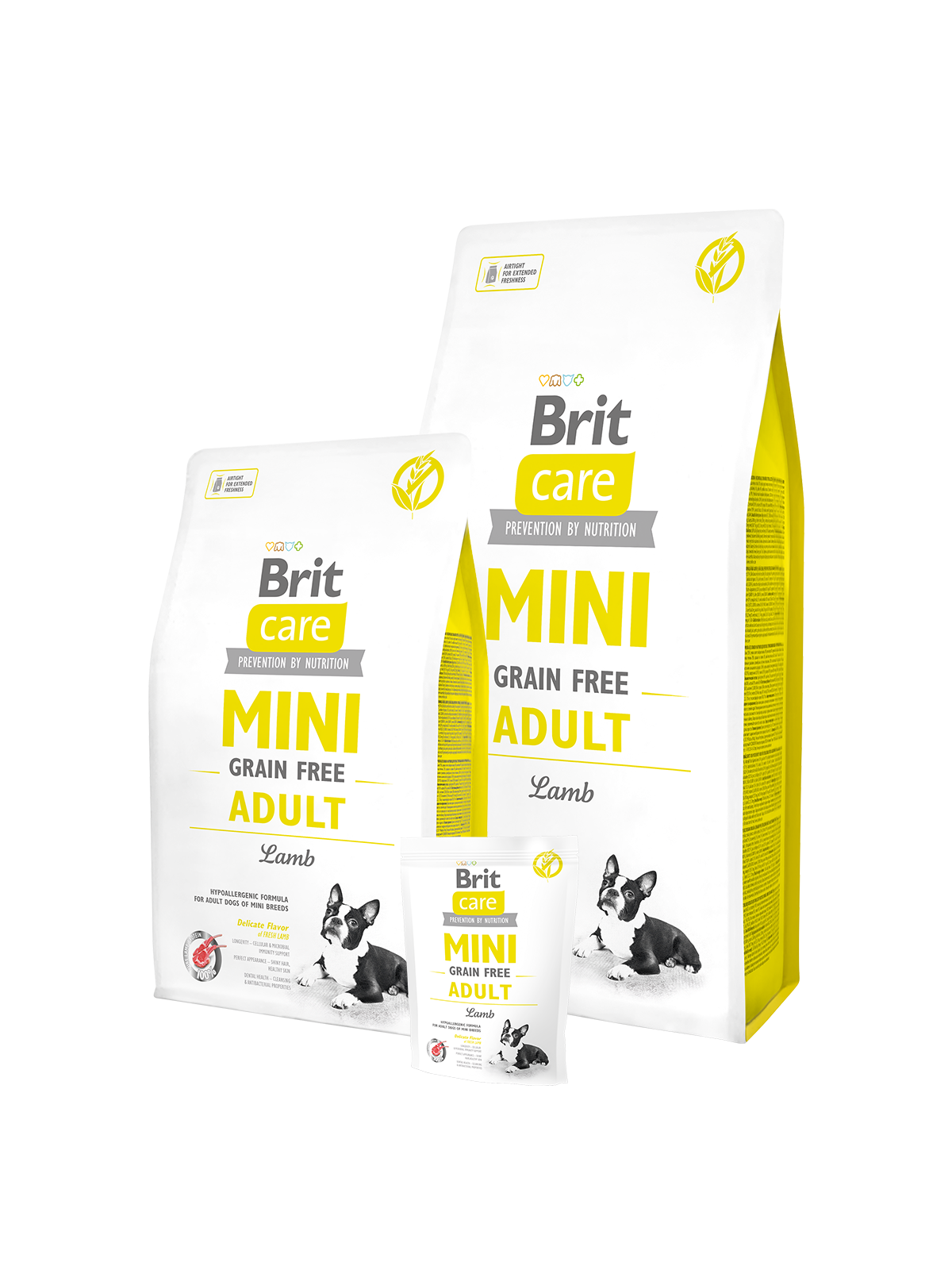 Ingredients & Nutrition
INGREDIENTS
Composition:
lamb meat meal (30%), fresh lamb protein (15%), yellow pea, chicken fat (preserved with tocopherols), chickpeas, buckwheat, dried apples, linseed (3%), salmon oil (2%), brewer's yeast, algae (0.5%, Ascophyllum nodosum), hydrolyzed crustacean shells (a source of glucosamine, 260 mg/kg), blueberries (230 mg/kg, source of polyphenols 70 mg/kg & flavonoids 30 mg/kg), cartilage extract (a source of chondroitin, 160 mg/kg), mannan-oligosaccharides (150 mg/kg), herbs & fruits (rosemary, cloves, citrus, curcuma, 150 mg/kg), fructo-oligosaccharides (100 mg/kg), yucca schidigera (100 mg/kg), inulin (90 mg/kg), milk thistle (75 mg/kg), sea buckthorn (75 mg/kg), chamomile (30 mg/kg), cloves (30 mg/kg), sage (25 mg/kg)
Nutritional composition:
Vitamin A (3a672a) 20,000 IU vitamin D3 (E671) 1,500 IU vitamin E (α-tocopherol) (3a700) 500 mg vitamin C (3a312) 300 mg choline chloride (3a890) 700 mg taurine (3a370) 200 mg biotin (3a880) 3 mg vitamin B1 (3a821) 1 mg vitamin B2 4 mg niacinamide (3a315) 12 mg calcium-D-panthothenate (3a841) 10 mg vitamin B6 (3a831) 1 mg folic acid (3a316) 0.5 mg vitamin B12 0.04 mg zinc (3b606) 100 mg iron (E1) 80 mg manganese (E5) 40 mg iodine (3b201) 0.75 mg copper (E4) 15 mg selenium (3b8.10) 0.2 mg
GUARANTEED NUTRITION
CALORIE CONTENT (CALCULATED)
NA

kcal/kg
GUARANTEED ANALYSIS
29%

Protein

18%

Fat

8.4%

Crude ash

2.5%

Dietary Fiber

10%

Moisture

1.6%

Calcium

1.3%

Phosphorus

500 mg

Vitamin E

1.1 %

Omega-3 fatty acids

2.3%

Omega-6 fatty acids
Feeding Instructions
Mini breeds have higher energy requirements and a relatively small digestive tract and stomach. Therefore, the recommended daily food intake shown in the feeding table should be divided into 2 to 3 equal portions during the day. Serve dry or moistened with lukewarm water. When serving Brit Care for first time, mix it with the previous food and gradually increase the ratio of Brit Care over the course of 7 days. The daily amount may vary depending on the environment, activity levels, and age of your dog. Ensure your dog has fresh drinking water at all times.

Additional Information
Additional Information
| | |
| --- | --- |
| Weight | N/A |
| Weight | 2 KG, 400 Grams, 7 KG |
Ratings & Reviews

Write a review