BRIT CARE MINI SENSITIVE GRAIN FREE- VENISON
Hypoallergenic Formula for Sensitive mini dogs

Brit Care Mini Grain Free for sensitive dogs of miniature breeds (1 to 10kg)
Hypoallergenic, grain-free formula with venison as the only source of animal protein.
Complete, hypoallergenic recipe for sensitive dogs of miniature breeds, contains the natural source of proteins and energy.
Venison is a unique, non-allergic source of highly tolerated proteins that does not burden the body or irritate the digestive tract. The formula consists of a limited number of basic ingredients and does not contain cereals, so it is a great solution for dogs with food intolerance and hypersensitive digestive system.
One source of protein: venison
Venison is a hypoallergenic protein source perfect for dogs with extreme digestive hypersensitivity and food intolerance.
Increasing resistance of the dog
Mannan probiotic / fructooligosaccharides with inulin to strengthen immunity and intestinal microflora modulation.
A non-melting formula. A non-melting recipe, without any risky ingredients, minimizes the occurrence of food allergies.
Improves the condition of fur and skin
Increased levels of Omega-3 fatty acids to maintain heart health and good skin and fur.
Supports cellular immunity
Vitamin C as a source of antioxidants to increase cell protection and strengthen cellular immunity.
Improving the condition of the dog due to the content of:
– silymarin from milk thistle: – prevention of inflammation, metabolism, liver regeneration
– Vitamins C, MOS and FOS probiotics, inulin: – improving cellular immunity and resistance to microorganisms
Supporting resistance to stress:
In every dog's life, there is a time when its development and the influence of external factors may weaken the immune system. These are periods of change, shedding and molting, reproduction and other stressful situations. The daily consumption of natural substances and vitamins with immunomodulatory properties makes the dog's body always ready to meet such challenges.
The elimination of cereals, including rice, is one of the important steps towards improving the nutritional properties of the food and ensuring long-term health and excellent physical condition. The main advantage of non-fat food is the low glycemic index. This reduces the risk of the most common diseases of obesity in dogs
Brit Care feeds do not contain soy, beef, pork, wheat, maize or GMO.
Why is Brit Care hypoallergenic?
The long-term use of certain types of proteins in dog food has contributed to increase in the incidence of food allergies. Sources of such proteins include wheat, maize, and soy, as well as some popular types of meat, including
chicken, beef, and pork. The elimination of typical allergens from the diet reduces the
load on the dog's body and prevents the occurrence of food intolerances.
Hypoallergenic recipes with high-quality protein and saturated fats that help keep exhibit dogs in excellent shape. The extra high content of unsaturated omega-3 fatty acids, folic acid and vitamin B that reduces stress and helps the dogs to relax during the show. Omega-6 fatty acids keep the skin fresh and free from dandruff, making the coat thick, glossy and silky. Vitamin C as the source of antioxidants for increased cellular protection and cellular immunity.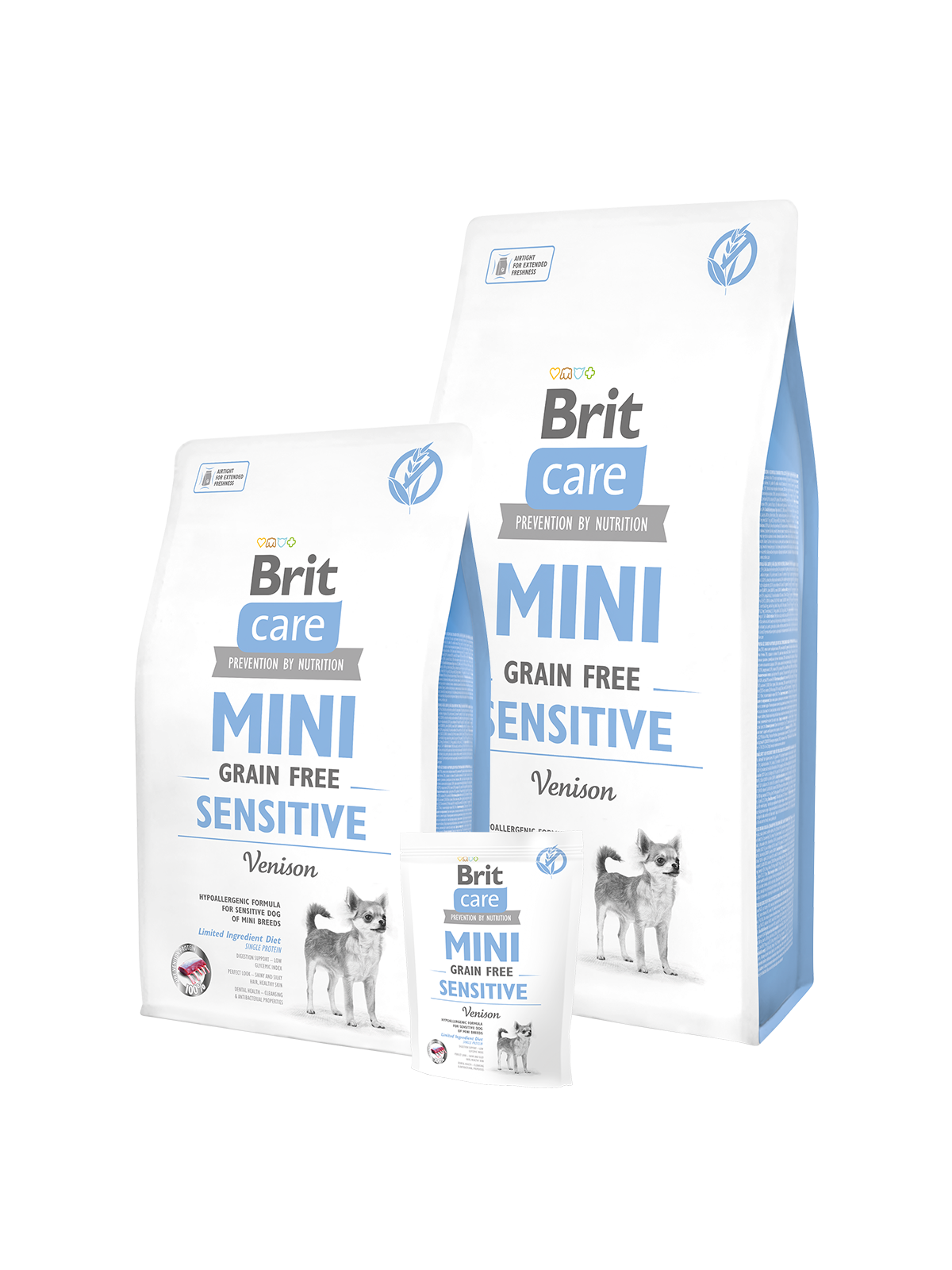 Ingredients & Nutrition
INGREDIENTS
Composition:
Venison (40%), yellow pea, chicken fat (preserved with tocopherols), chickpeas, buckwheat, dried apples, salmon oil (3%), linseed (3%), brewer's yeast, algae (0.5%, Ascophyllum nodosum), hydrolyzed crustacean shells (a source of glucosamine, 260 mg/kg), blueberries (230 mg/kg, source of polyphenols 70 mg/kg & flavonoids 30 mg/kg), cartilage extract (a source of chondroitin, 160 mg/kg), mannan-oligosaccharides (150 mg/kg), herbs & fruits (rosemary, cloves, citrus, curcuma, 150 mg/kg), fructo-oligosaccharides (100 mg/kg), yucca schidigera (100 mg/kg), inulin (90 mg/kg), milk thistle (75 mg/kg), sea buckthorn (75 mg/kg), chamomile (30 mg/kg), cloves (30 mg/kg), sage (25 mg/kg
Nutritional composition:
Vitamin A (3a672a) 20,000 IU vitamin D3 (E671) 1,500 IU vitamin E (α-tocopherol) (3a700) 500 mg vitamin C (3a312) 300 mg choline chloride (3a890) 700 mg taurine (3a370) 200 mg biotin (3a880) 3 mg vitamin B1 (3a821) 1 mg vitamin B2 4 mg niacinamide (3a315) 12 mg calcium-D-panthothenate (3a841) 10 mg vitamin B6 (3a831) 1 mg folic acid (3a316) 0.5 mg vitamin B12 0.04 mg zinc (3b606) 100 mg iron (E1) 80 mg manganese (E5) 40 mg iodine (3b201) 0.75 mg copper (E4) 15 mg selenium (3b8.10) 0.2 mg
GUARANTEED NUTRITION
CALORIE CONTENT (CALCULATED)
NA

kcal/kg
GUARANTEED ANALYSIS
40%

Venison

3%

Salmon Oil

28%

Crude Protein

17%

Crude fat

8.8%

Crude ash

2.2%

Crude fiber

10%

Moisture

1.4%

Calcium

1%

Phosphorus

2.2 %

Omega-6 fatty acids

1.1%

Omega -3 fatty acids
Feeding Instructions
Mini breeds have higher energy requirements and a relatively small digestive tract and stomach. Therefore, the recommended daily food intake shown in the feeding table should be divided into 2 to 3 equal portions during the day. Serve dry or moistened with lukewarm water. When serving Brit Care for first time, mix it with the previous food and gradually increase the ratio of Brit Care over the course of 7 days. The daily amount may vary depending on the environment, activity levels, and age of your dog. Ensure your dog has fresh drinking water at all times.

Additional Information
Additional Information
| | |
| --- | --- |
| Weight | N/A |
| Weight | 2 KG, 400 Grams, 7 KG |
Ratings & Reviews

Write a review