BRIT FRESH ADULT FISH & PUMPKIN LARGE BREEDS –MUSCLE & JOINT -60% meat
HOLISTIC LINE WITH NO NONSENSE INGREDIENTS

$4.00 – $35.00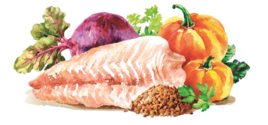 Fresh fish with pumpkin, buckwheat, beetroot & parsley. Super premium formula for dogs of large breeds above 25 kg. Holistic dog food made with 40% carefully processed fresh meat.
Complete food for dogs.
BRIT FRESH ADULT FISH & PUMPKIN
LARGE BREEDS –MUSCLE & JOINT -60% meat
HOLISTIC LINE WITH NO NONSENSE INGREDIENTS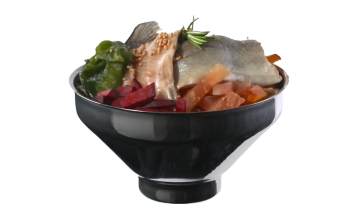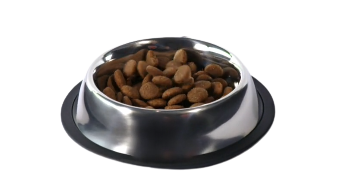 Brit Dog Fresh Fish & Pumpkin Adult Large +25kg breed
Complete super premium Brit Fresh Adult Large is intended for adult dogs of large breeds, ie. for dogs over 25 kg. The composition of kibble with a high content of fresh fish meat is supplemented with pumpkin, parsley, beetroot and buckwheat. (40% fresh meat + 20% dried meat = 60% meat)
Brit Fresh dog food is designed according to the holistic principle – essential nutrients (proteins, fats, carbohydrates, fiber, vitamins and minerals) are supplied in the necessary proportions in balanced amounts for the proper functioning of the body.
Brit Fresh Fish & Pumpkin – Muscles & Joints are included:
Fresh fish meat – freshly processed and exploited fish (fish of the family *Clupeidae, white fish, cod, tuna and herring are used – 40% fresh meat + 20% dried meat = 60% meat
Beetroot – vegetable full of fiber, vitamin C and phytonutrients showing anti-*inflammatory and antioxidant properties
*buckwheat – a superfood that is rich in nutrients that regulate blood pressure
Pumpkin – promoting healthy skin and eyesight, low carbohydrate
Parsley – preventive measures against cancer and diabetes, parsley also improves bone health
Brit Fresh is a new line of holistic foods made using a gentle method using high fresh meat content and healthy side dishes. Meat and side dishes come from local sources. This recipe is rich in natural amino acid sources that nourish muscles and tissues. Freshly prepared meat gives the recipes a great taste, improves long-term food intake and is a great motivation for the dog. The formulas contain native crops, vegetables, fruits and herbs to complement the complete nutrient profile. A varied selection of daily menus will not leave any dog ​​lover of good and healthy food.
Contains ancient grains and other natural ingredients – pumpkin, oats, buckwheat, linseed, chard
Traditional herbs – thyme, rosemary, marigold, dandelion, parsley
without unhealthy raw materials
without soy, corn, gluten and wheat and GMO products
free of antioxidants, dyes and chemical flavorings
"Using fresh meat in the preparation of Brit Fresh granules allows us to eliminate one of the processing steps and preserve the nutrients in the meat together with its natural flavor and aroma. We've combined ancient grains like buckwheat, millet, and oats with traditional herbs, pumpkin, zucchini, and fruit to create a healthy menu that's sure to please all canine lovers of delicious high-quality nutrition."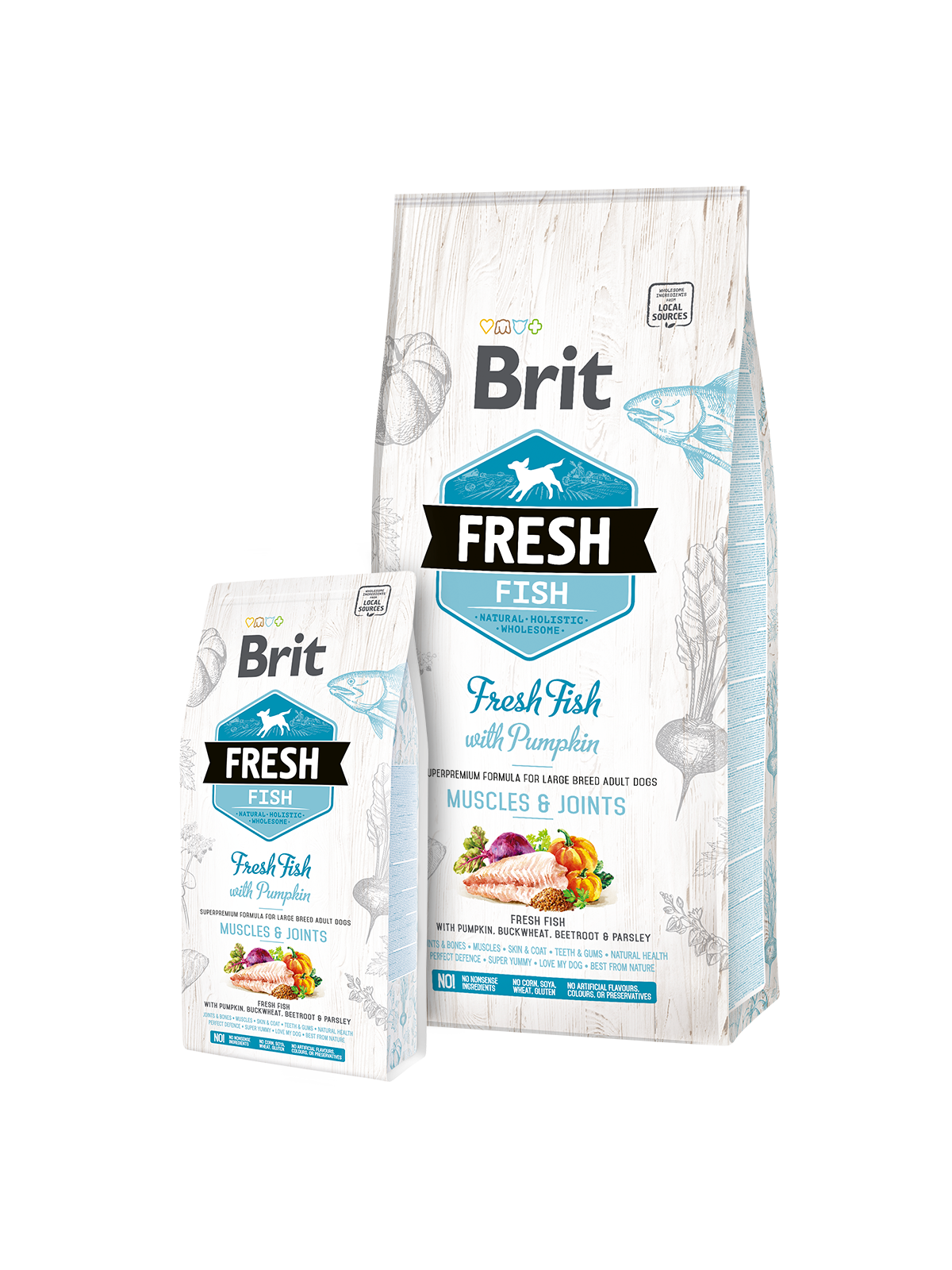 Ingredients & Nutrition
INGREDIENTS
Composition:
Fresh Fish (40%), Dried Chicken (20%), Pumpkin (10%), Chicken fat (preserved with mixed tocopherols), Oats, Buckwheat (4%), Apples, Whole Beetroot (2%), Salmon Oil, Brewer´s Yeast, Linseed, Chicken Liver, Collagen, Algae, Chard (0.2%), Parsley (0.05%), Rosemary, Thyme, Marigold, Dandelion, Probiotics (Enterococcus faecium 1x109 CFU), Glucosamine 1,700 mg/kg, Chondroitin sulphate 1,300 mg/kg, Fructo-oligosaccharides 220 mg/kg, β-glucans 200 mg/kg, Mannan-oligosaccharides 180 mg/kg, Yucca 150 mg/kg, Green-lipped Mussel 100 mg/kg.

Analytical ingredients:
crude protein 26.0%, fat content 14.0%, crude fiber 3.0%, crude ash 7.0%, moisture 10.0%, omega-3 0.9%, omega-6 1.8%, EPA (20:5 n3) 0.3%, DHA (22:6 n3) 0.5%, calcium 1.4%, phosphorus 1.0%.

Nutritional composition:
vitamin A (3a672a) 20,000 I.U., vitamin D3 (E671) 1,600 I.U., vitamin E (3a700) 500 mg, vitamin C (3a312) 450 mg, L-carnitine (3a910) 500 mg, choline chloride (3a890) 650 mg, biotin (3a880) 0.8 mg, vitamin B1 (3a821) 6 mg, vitamin B2 8 mg, niacinamide (3a315) 40 mg, calcium-D-panthothenate (3a841) 20 mg, vitamin B6 (3a831) 7 mg, folic acid (3a316) 0.9 mg, vitamin B12 0.05 mg, zinc chelate of amino acids hydrate (3b606) 110 mg, ferrous chelate of amino acids hydrate (E1) 90 mg, manganese chelate of amino acids hydrate (E5) 45 mg, potassium iodide (3b201) 0.8 mg, cupric chelate of amino acids hydrate (E4) 18 mg, organic form of selenium produced by Saccharomyces cerevisiae CNCM I-3060 (selenised yeast inactivates) (3b8.10) 0.2 mg, L-methionine (3c305) 160 mg. Contains natural antioxidants: tocopherol extracts from vegetable oil (1b306), ascorbyl palmitate (1b304) & rosemary.

Metabolizable energy: 3,690 kcal/kg
GUARANTEED NUTRITION
CALORIE CONTENT (CALCULATED)
NA

kcal/kg
GUARANTEED ANALYSIS
40%

Fresh Fish

20%

Dried Chicken

10%

Pumpkin

4%

Oats

2%

Apples

6%

Parsley

14%

fat content

10%

moisture

1.4%

calcium
Feeding Instructions
Feeding table: May be served dry or moistened with lukewarm water. Food should be divided into 1-2 equal portions during the day. The recommended daily amount is shown in the feeding table. When serving Brit for first time, use smaller amounts and mix it with previous food and gradually increasing the portion of Brit. Always make sure your dog has plenty of fresh water. Best use before the date shown on the package. Keep in a dry and cool place, avoid direct sunlight. Reseal after opening.

Additional Information
Additional Information
Ratings & Reviews

Write a review