BRIT CARE COCO- GOURMAND ADULT GRAIN FREE – DUCK & SALMON
A hypoallergenic kibble for the aficionado cat, grain free with duck & salmon.

$1.00 – $4.00
Consider this interview to be highly confidential. My name is Cocco and I come from a very famous family of British Cats . In our family, we like to eat well and at every get-together of Cats and Humans, the delicacies served would make your head spin. To be honest, when I get home with my Human, I don't just fancy any old food. We had to try out a few cat foods – and we finally found the right one. It makes my mouth water and a full bowl always brings me over. I have to move quickly so nobody else gets there first. Every day I eat like a queen.
BRIT CARE COCO- GOURMAND ADULT
GRAIN FREE – DUCK & SALMON
A hypoallergenic kibble for the aficionado cat, grain free with duck & salmon.
My name's Cocco and I come from a famous line of British cats. At every gathering of Humans and Cats, the delicacies served up are a feast for the eyes. So when I return home with my owner, I can be rather picky. We have had to try various types of granules – and finally I've found the ones for me. They smell so luxurious that I can never resist a full bowl. They are something to savour every day.

Catnip is irresistible for all fussy cats. Its taste and aroma attract and draw them like magnets.

Delicate choice meats – salmon and duck ensure a great taste, making this a feed that even the pickiest of cats will succumb to. The feed contains none of the cereals that some cats are averse to.

To keep the body in perfect condition, it is important to have a a high meat content in feed, with the right proportions of the necessary amino acids, especially arginine and taurine.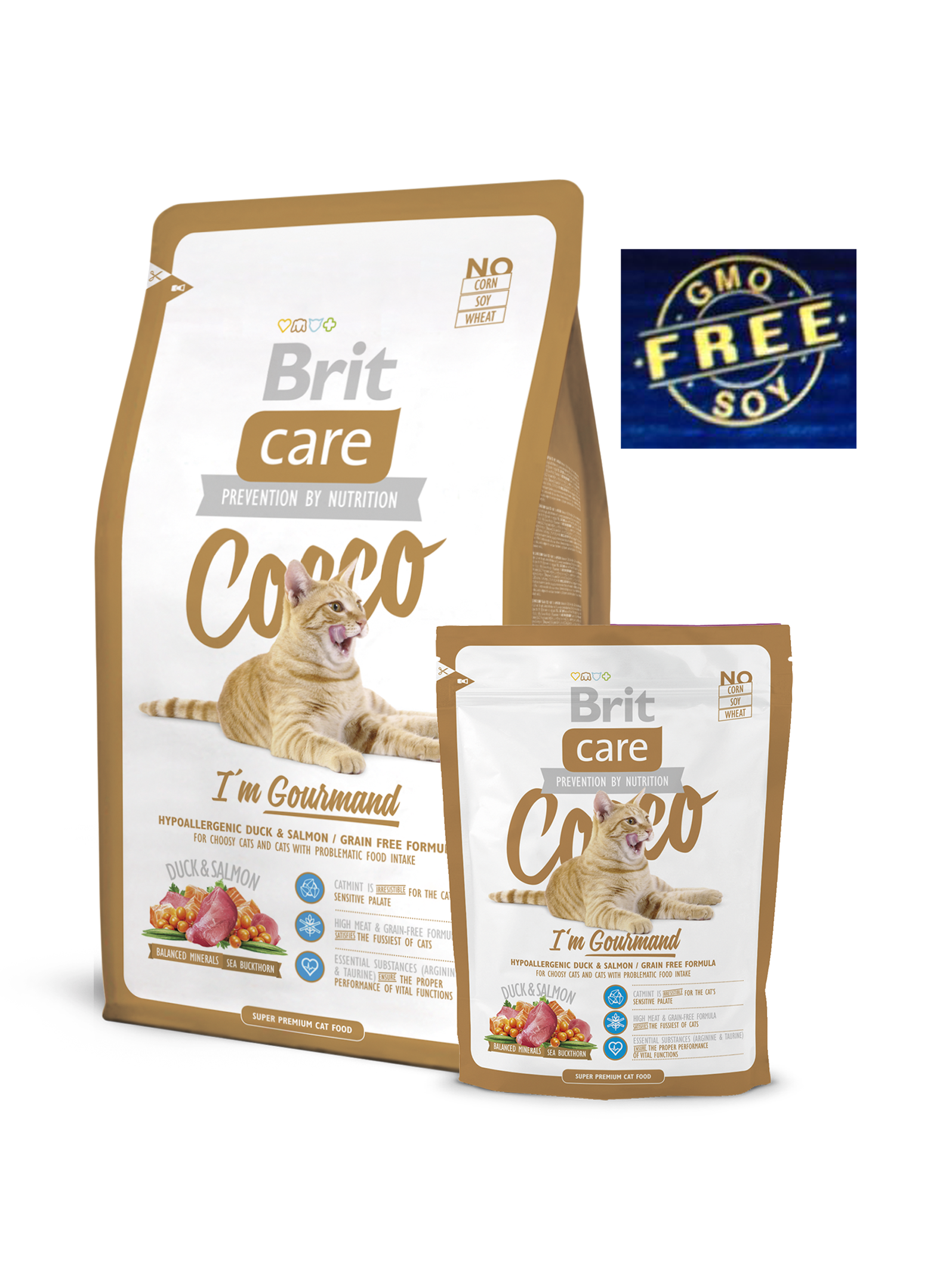 Ingredients & Nutrition
INGREDIENTS
Composition:

duck dehydrated (25%), dried potatoes, salmon meal (15%), potato meal, chicken dehydrated (10 %), chicken fat (preserved with tocopherols), salmon hydrolyzed protein (5%), dried apples, salmon oil (3%), chicken liver (2%), brewer´s yeast, mannan-oligosaccharides (155 mg/kg), fructo-oligosaccharides (125 mg/kg), yucca schidigera extract (85 mg/kg), catmint (50 mg/kg), sea buckthorn (50 mg/kg).

Analytical ingredients:

crude protein 40 %, fat content 19 %, crude fibre 3.5 %, crude ash 6.2 %, moisture 10 %, calcium 1.2 %, phosphorus 0.9 %, sodium 0.4 %, magnesium 0.06 %.

Nutritional composition:

vitamin A (E672) 22 500 IU, vitamin D3 (E671) 900 IU, vitamin E (3a700) 650 mg, vitamin C (E300) 300 mg, taurine 2 300 mg, choline chloride 2 100 mg, L-carnitine 65 mg, niacin 40 mg, biotin 1.8 mg, zinc (E6) 150 mg, manganese (E5) 56 mg, iron (E1) 47 mg, copper (E4) 11 mg, iodine (E2) 3.7 mg, selenium (E8) 0.23 mg, DL-methionine (3.1.1.) 13 mg, arginine (3c3.6.1) 11 mg, L-lysine (3.2.3.) 9 mg, sodium hexametaphosphate (E452i) 710 mg. Omega 3: 0,66%, Omega 6: 2,67%.

Metabolizable energy:

4 200 kcal/kg.
GUARANTEED NUTRITION
CALORIE CONTENT (CALCULATED)
4200

Kcal/Kg
GUARANTEED ANALYSIS
40%

Crude protein

19

Crude fat

10%

moisture

6.2%

Crude ash

3.5%

Crude fiber

1.2%

Calcium

1.9%

Phosphorus

0.4%

Natrium

0.06%

Magnesium
Feeding Instructions
| | | | |
| --- | --- | --- | --- |
| Weight of cat (kg) | 2-3 | 3-5 | 5-7 |
| Amount (g) | 35-50 | 50-70 | 70-90 |

Additional Information
Additional Information
| | |
| --- | --- |
| Weight | N/A |
| Weight | 1 KG, 15 KG |
Ratings & Reviews

Write a review