BRIT CARE SUPERPREMIUM- KITTEN – FRESH CHICKEN & TURKEY
Complete food for kittens and pregnant or lactating cats.

$5.00 – $55.00

A hypoallergenic, grain-free, and highly digestible formula rich in essential nutrients to satisfy the energy demands of pregnant or lactating cats and support proper foetal development. The balanced content of calcium, phosphorus, magnesium, vitamin D, and a complex of vitamins, minerals, and essential fatty acids ensures delivery of healthy kittens and helps prevent rickets.
BRIT CARE SUPERPREMIUM - KITTEN HEALTH GROWTH & DEVELOPMENT - FRESH CHICKEN & TURKEY
A Hypoallergenic formulation for kittens (1-12 months) and pregnant or lactating females.

High protein formula with extra taurine, which helps maintain muscle growth, promotes good vision and a healthy heart while providing the cat's body with energy for new discoveries and play. The optimal combination of vitamins and organic trace elements supports daily activity and well-being. The appropriate content of calcium, phosphorus, magnesium, vitamin D, complex vitamins, minerals and essential amino acids, makes the food suitable for complete feeding of pregnant and lactating females, ensures the birth of healthy kittens and also contributes to the prevention of rickets. The high digestibility and rich composition in essential nutrients without grains, it covers the energy needs of pregnant and lactating females and supports the development of fetuses during pregnancy.
PROBIOTICS and PREBIOTICS help maintain gastrointestinal tract and immune system health.
COLOSTRUM contains immunoglobulins, antibodies that help kittens build strong immunity.
TAURINE supports eye and heart health.
HIGH PROTEIN CONTENT helps maintain growth and development of muscle mass.
Grain free – NO colorants – NO preservatives – NO GMO – NO soy.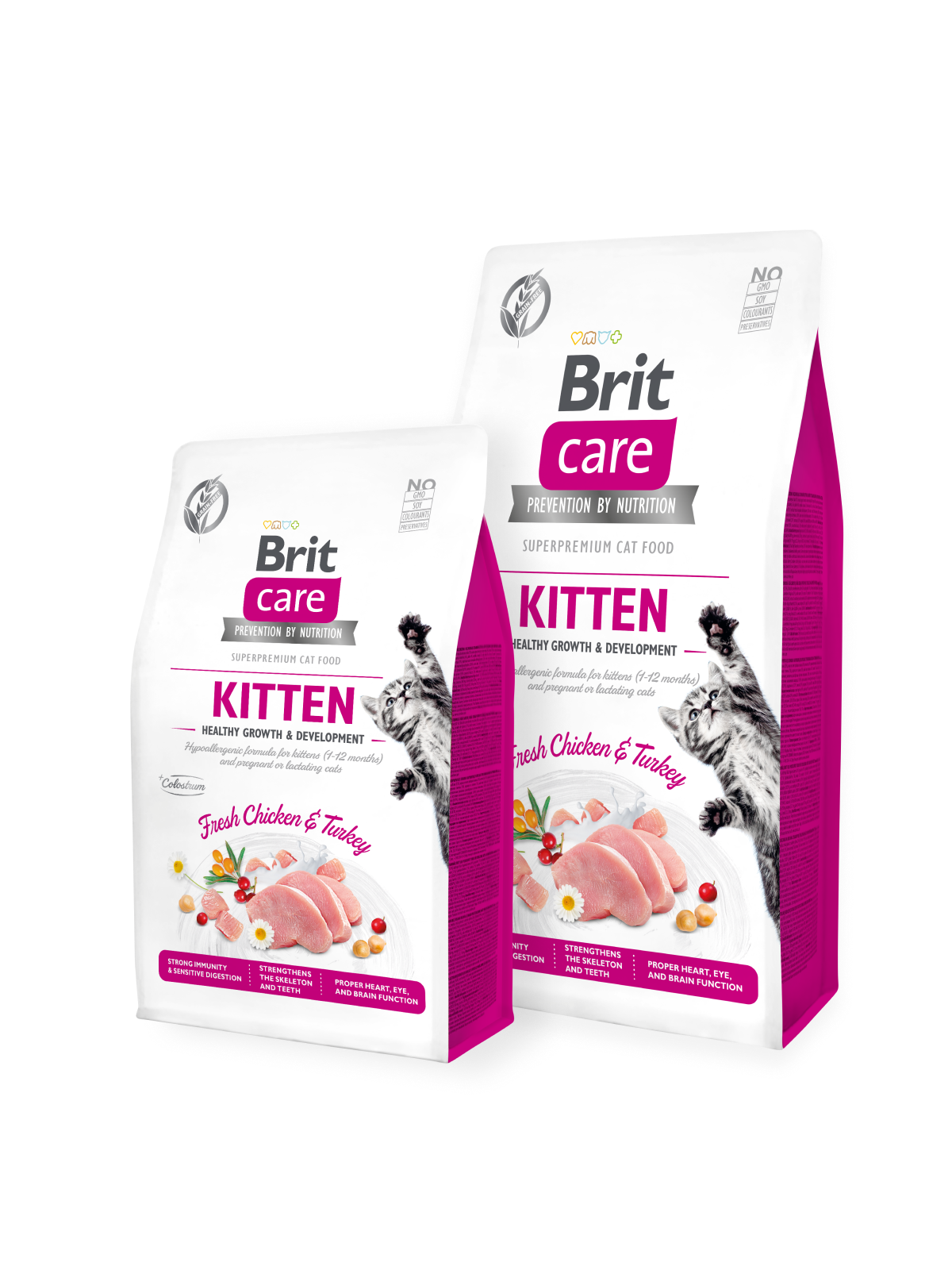 Ingredients & Nutrition
INGREDIENTS
Composition: dehydrated turkey (30%), fresh chicken meat (26%), poultry fat (preserved with tocopherols, 12%), yellow pea (12%), chickpeas (8%), salmon oil (3%), hydrolyzed liver chicken (2%), flaxseed (2%), dried apples (2%), brewer's yeast (1%), colostrum (0.5%), dried chamomile (0.5%), minerals, dried sea buckthorn (0, 3%), dried cranberries (0.2%), fructo-oligosaccharides (0.025%), mannan-oligosaccharides (0.02%), Mojave yucca (0.01%), Lactobacillus acidophilus HA - 122 (15x109 inactive cells/ kg).
Analytical ingredients: crude protein 38.0%, crude fat 18.0%, crude fiber 1.5%, crude ash 7.2%, moisture 10.0%, omega-3 0.5%, omega-6 2, 2%, calcium 1.2%, phosphorus 0.9%, sodium 0.5%, magnesium 0.1%.
Additional nutrients per 1 kg: vitamin A (3a672a) 23,000 IU, vitamin D3 (E671) 1,000 IU, vitamin E (3a700) 800 mg, vitamin C (3a312) 400 mg, taurine (3a370) 2,800 mg, L-carnitine ( 3a910) ) 100 mg, choline chloride (3a890) 2,800 mg, biotin (3a880) 2.5 mg, vitamin B1 (3a821) 12 mg, vitamin B2 15 mg, nicotinamide (3a315) 60 mg, D calcium pantothenate (3a841) 50 mg, vitamin B6 (3a831) 12 mg, folic acid (3a316) 3 mg, vitamin B12 0.05 mg, zinc (3b606) 140 mg, iron (3b106) 55 mg, manganese (3b504) 65 mg, potassium iodide (3b201 ) 4.5 mg, copper (3b406) 12 mg, selenium (3b8.10) 0.2 mg, L-methionine (3c305) 2,500 mg.
Metabolizable energy: 4,000 kcal/kg.
Contains natural antioxidants approved by the EU: tocopherol extracts from vegetable oils (1b306), ascorbyl palmitate (1b304) and rosemary extract.
GUARANTEED NUTRITION
CALORIE CONTENT (CALCULATED)
4,000

Kcal/Kg
GUARANTEED ANALYSIS
38.0%

Crude protein

18.0%

Crude fat

1.5%

Crude fiber

7.2%

Crude ash

10.0%

Moisture

0.5%

Omega-3

2.2%

Omega-6

1.2%

Calcium

0.9%

Phosphorus

0.5%

Sodium

0.1%

Magnesium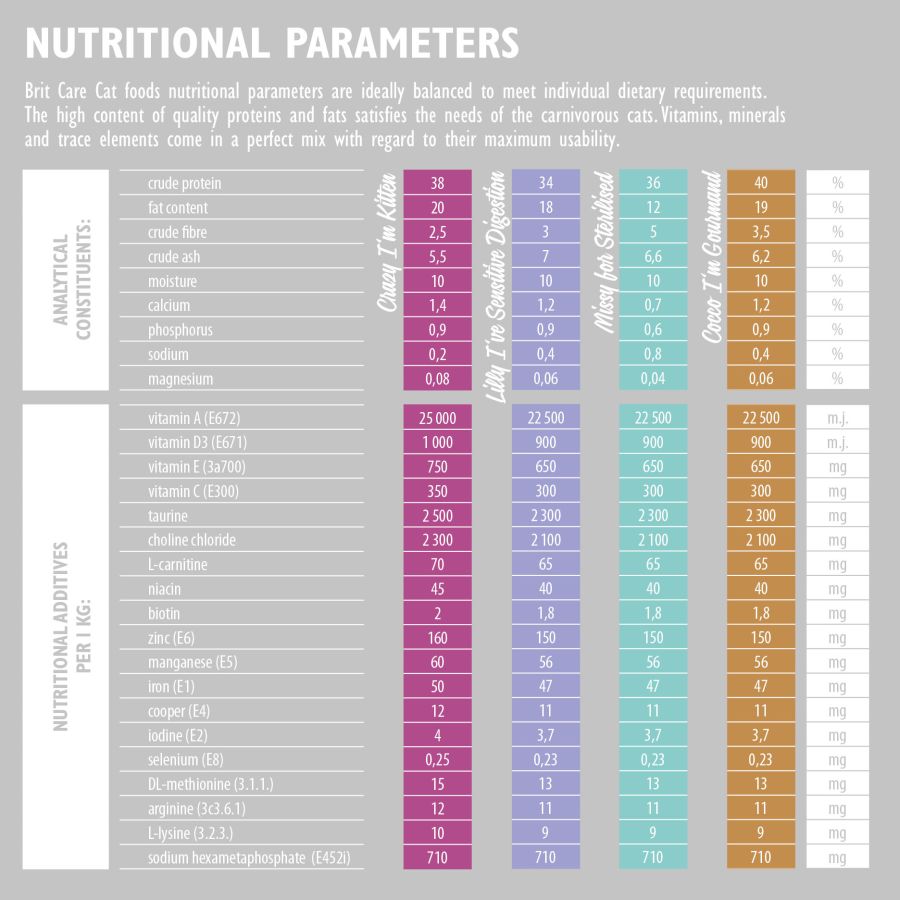 Feeding Instructions
Serve the food dry or wet with lukewarm water. Make sure your cat always has access to clean drinking water. If serving for the first time, mix it with the previous food to ease the transition to the new one. Use preferably before the date indicated on the package. Store in a dry and cool place. Avoid exposure to direct sunlight. Close the package after opening.
| | | | |
| --- | --- | --- | --- |
| AGE OF KITTEN (months) | 1 - 4 | 4 - 7 | 7 - 12 |
| AMOUNT (g/day) | 25 - 55 | 55 - 80 | 80 - 100 |
| | | |
| --- | --- | --- |
| BODY WEIGHT OF PREGNANT OR LACTATING CAT (kg) | 3 - 4 | 5 - 6 |
| AMOUNT (g/day) | 55 - 80 | 90 - 140 |

Additional Information
Additional Information
| | |
| --- | --- |
| Weight | N/A |
| Weight | 2 KG, 400 Grams, 7 KG |
Ratings & Reviews

Write a review