BRIT PREMIUM JUNIOR
MEDIUM SIZE BREED-50% Chicken
Dry food for Junior middle-class dogs
Chicken recipe for young dogs (1-12 months) of medium-sized breeds (10-25 kg).
Brit Premium by Nature is a highly digestible and delicious food.
MORE MEAT – ½ CHICKEN BAG – A 45-55% high proportion of de-bred and dried chicken in each package ensures greater palatability and better digestibility. Meat is the best natural source of highly digestible protein for our dogs, important for muscle and tissue health.
Oat rich source of energy. It is an ancient gluten-free cereal, which does not cause allergies and ensures excellent feed compatibility.
COLLAGEN, SEA CRUSTAINS, and GREEN ORAL are natural sources of chondroprotectives for healthy joints, cartilage and tendons.
SALMON OIL 2% of added salmon oil in each package. Salmon oil is a natural source of Omega-3 fatty acids for healthy skin, shiny and thick hair and also has a preventive effect against cardiovascular diseases.
FRUIT AND HERBS Thanks to the contained fruit and herbs such as chamomile, cloves, citrus, rosemary, turmeric and dried blueberries, natural immunity support and excellent digestion are ensured.
High content of boned and dried chicken 50% – natural protein source

HEALTHY SKELETAL DEVELOPMENT
Collagen, crustacean peel and green-lipped mussel are naturally rich in cartilage-protecting substances and promote a healthy development of joints and cartilage. Balanced content of calcium and phosphorus for proper bone and tooth development.
OPTIMAL BODY AND MUSCLE GROWTH
High content of dried, boneless chicken
– a natural source of digestible protein
– for optimal body and muscle development
PROMOTES IMMUNE DEFENSE AND HEALTH
Fruits, herbs and turmeric are naturally rich in vitamins and have a positive effect on the immune system. Mannanol oligosaccharides and fructooligosaccharides are good for intestinal flora.
Contains salmon oil – a natural source of Omega-3 fatty acids for healthy skin and a soft, shiny coat
It does not cause food allergies and intolerance
Contains a natural source of chondroprotective_ Healthy development of joints and cartilage thanks to collagen, shellfish and mussels.
It has a positive effect on the correct development of bones and teeth due to the optimum content of Ca and P
Contains natural sources of vitamins – suitable for promoting immunity and overall health
It supports the optimal condition of the intestinal microflora
Ensures proper muscle growth and development
Protein 31% and fat 16%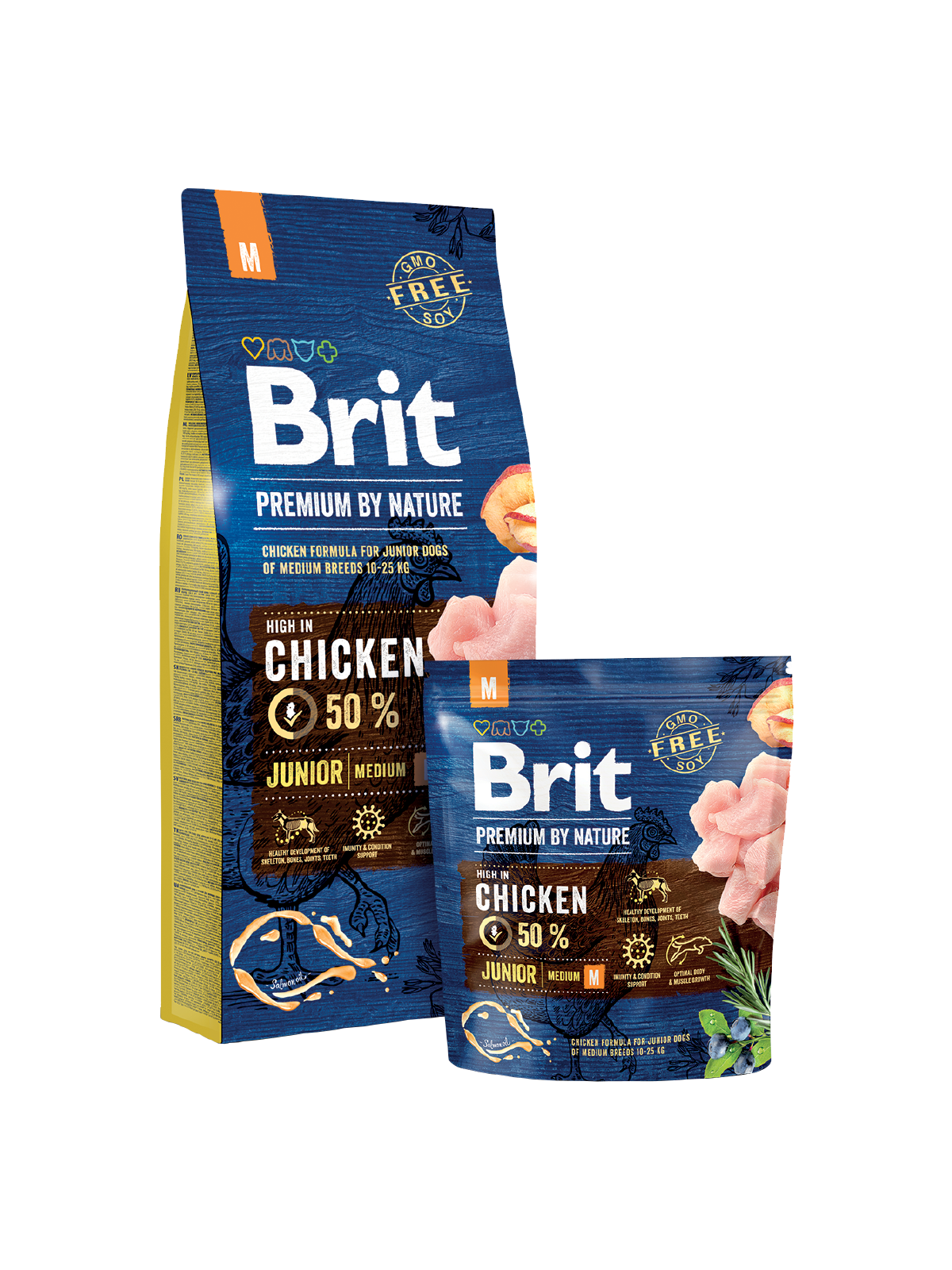 Ingredients & Nutrition
INGREDIENTS

Ingredients:

50% chicken (30% dehydrated, 20% boneless meat), oats, wheat, chicken fat (canned tocopherols), corn, salmon fish oil (2%), dried apple, hydrolyzed chicken liver, brewer's yeast, collagen , crustacean shells (source of glucosamine, 260 mg / kg), cartilage (source of chondroitin, 180 mg / kg), herbs and fruits (cloves, citrus, rosemary, turmeric, 150 mg / kg), mannoligosaccharides (150 mg / kg), fructo-oligosaccharides (100 mg / kg), yucca mojave (100 mg / kg), dried chamomile (90 mg / kg), green mussels (source of glycosaminoglycans, 60 mg / kg), blueberries (6 0 mg / kg).

Analytical components:

crude protein 31.0%, crude fat 18.0%, moisture 10.0%, crude ash 6.8%, crude fiber 2.0%, calcium 1.4%, phosphorus 1.0%, omega -3 fatty acids 0.25%, omega-6 fatty acids 2.2%.
GUARANTEED NUTRITION
CALORIE CONTENT (CALCULATED)
GUARANTEED ANALYSIS
50%

chicken

2%

oats

31%

crude protein

18%

crude fat

10%

moisture

6%

crude ash

1.4%

calcium

1%

phosphorus

2.2%

omega-6
Feeding Instructions
Feeding table:

May be served dry or moistened with lukewarm water. In case of junior dogs - recommended daily food intake shown in a feeding table should be divided into 2-3 equal portions during the day. When serving Brit Premium for first time, use smaller amounts and mix it with previous food and gradually increasing the portion of Brit Premium. Always make sure your dog has plenty of fresh water.

Additional Information
Additional Information
| | |
| --- | --- |
| Weight | N/A |
| Weight | 1 KG, 15 KG, 3 KG |
Ratings & Reviews

Write a review