BRIT CARE WEIGHT LOSS
SENIOR BREEDS – GRAIN FREE- RABBIT & RICE
Hypoallergenic formula for overweight dogs
The rules of healthy weight loss:
Calorie intake, quality of nutrition
The desired weight loss in dogs is influenced by the same factors as in the case of humans. To reduce weight, reduce the intake of sugars and fat and replace them with high-quality digestible proteins. The fat content of Brit Care Weight Loss is minimal. The recipe includes fats in their most useful form – unsaturated.
Effective counteracting obesity: exercise
Do not forget about regular walks and exercises, which are the key to improving the physical condition of the dog and to maintain optimal body weight. A diet rich in chondroprotective ingredients prevents movement problems and helps maintain strong and flexible joints, ligaments and tendons.
The feeling of fullness is decisive.
Hunger is our enemy – a hungry dog is an unhappy dog. The unique combination of soluble and insoluble fiber prolongs the feeling of fullness between meals.
Fat burning.
Changing the diet, regular exercise and active substances in food (L-carnitine) help start the slimming process. Then all you have to do is stick to these rules.
The benefits of feed:
Calorie reduction with simultaneous muscle development
Hypoallergenic formula with easily digestible proteins and less fat for proper muscle development and prevention of fat deposition
Supporting joints during exercise
Chondroprotective ingredients with omega-3 fatty acids for strong and healthy joints, articular cartilage, tendons, and ligaments
Feeling of satiety
Optimal levels of soluble and insoluble fiber improve digestion and provide a feeling of fullness between meals
Support for fat burning
L-carnitine promotes beta-oxidation of fatty acids and natural transformation of fat into energy
Improving the condition of the dog due to the content of:
– silymarin of milk thistle: – prevention of inflammation, metabolism, liver regeneration
– Vitamins C, MOS and FOS probiotics, inulin: – improving cellular immunity and resistance to microorganisms
Enhancing dog's resistance:
Mannan probiotic / fructooligosaccharides from inulin to enhance immunity and modulation of the intestinal microflora.
Brit Care nutrition provides a long-term improvement in the quality of dogs' lives. The formula works preventively to avoid common problems resulting from improper nutrition.
Brit Care feeds do not contain soy, beef, pork, wheat, maize or GMO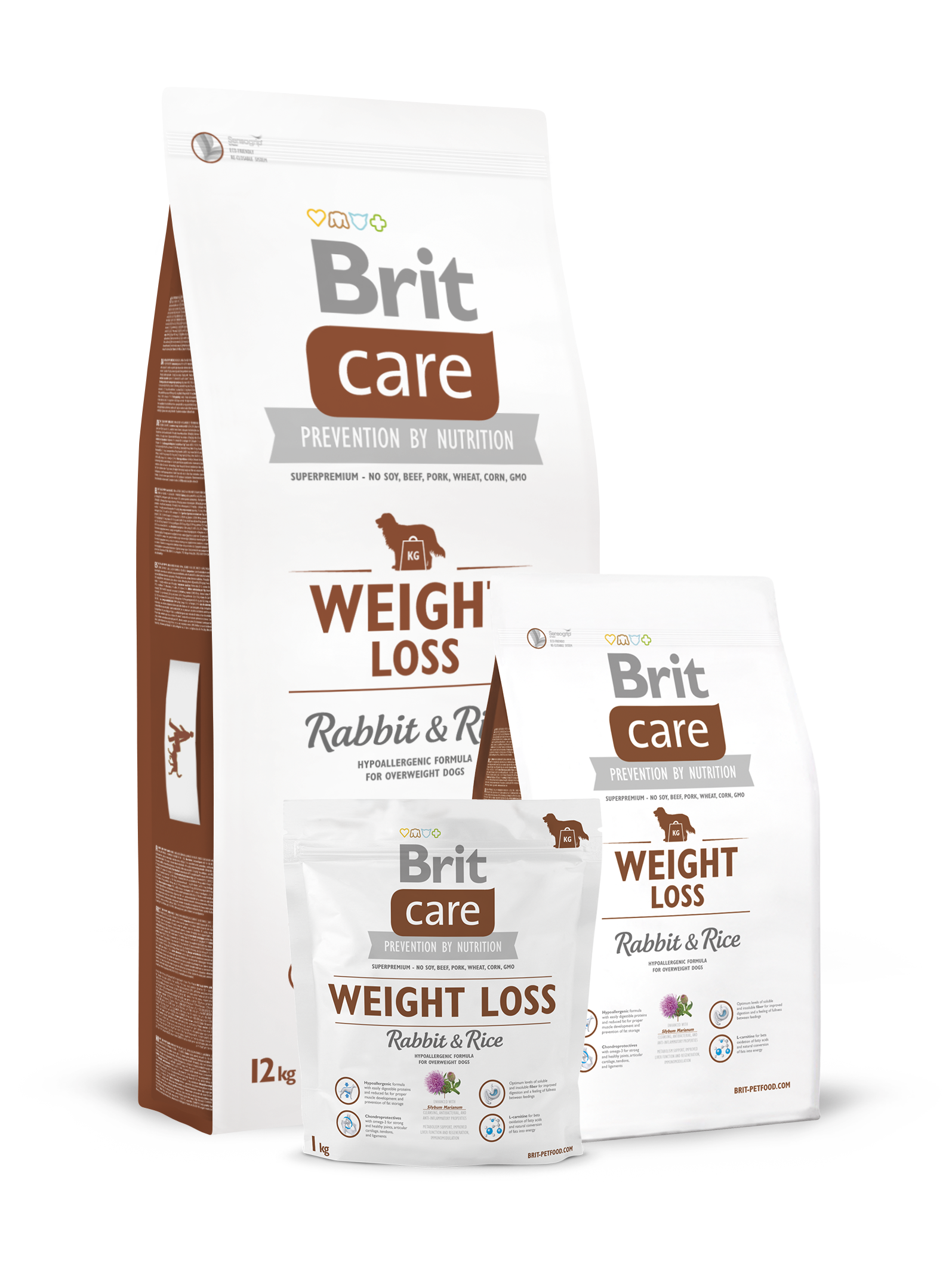 Ingredients & Nutrition
INGREDIENTS
Composition:
Dried rabbit (36%), rice (35%), dried apples, dried beet pulp, powdered cellulose, chicken fat (preserved with tocopherols), brewer's yeast, natural flavors, salmon oil (1%), hydrolyzed crustacean shells (a source of glucosamine, 320 mg/kg), cartilage extract (a source of chondroitin, 190 mg/kg), mannanoligosaccharides (180 mg/kg), herbs and fruits (rosemary, cloves, citrus, curcuma, 180 mg/kg), fructooligosaccharides (120 mg/kg), yucca schidigera (120 mg/kg), inulin (110 mg/kg), milk thistle (90 mg/kg).
Nutritional composition:
Vtamin A (E672) 23,000 IU, vitamin D3 (E671) 1,800 IU, vitamin E (α-tocopherol) (3a700) 600 mg, vitamin C (E300) 300 mg, L-carnitine 200 mg, choline chloride 700 mg, biotin 0.75 mg, vitamin B1 1.2 mg, vitamin B2 4.5 mg, niacinamide (3a315) 15 mg, calcium panthothenate 12 mg, vitamin B6 (3a831) 1.2 mg, folic acid (3a316) 0.6 mg, vitamin B12 0.05 mg, zinc (E6) 100 mg, iron (E1) 90 mg, manganese (E5) 45 mg, iodine (E2) 0.8 mg, copper (E4) 18 mg, selenium (3b8.10) 0.3 mg.
GUARANTEED NUTRITION
CALORIE CONTENT (CALCULATED)
NA

kcal/kg
GUARANTEED ANALYSIS
35%

Dried Rabbit

35%

Rice

10%

Crude fat

5.5%

Crude ash

27%

Crude protein

10%

Moisture

1.4%

Calcium

1.1%

Phosphorus

500 mg

Vitamin E

0.25 mg

Selenium

320 mg/kg

Glucosamine

9

Crude Fiber
Why is Brit Care hypoallergenic?
Prolonged use of certain types of proteins in dog food has contributed to an increased incidence of food allergies. Sources of such proteins include wheat, maize, and soy, as well as some popular types of meat, including chicken, beef, and pork. The elimination of typical allergens from the diet reduces the load on the dog's body and prevents the occurrence of food intolerances. Dogs are just like people prone to the negative impact of modern civilization. Stress is a common factor leading to serious diseases such as heart disease, cancer or diabetes. The treatment of such accidents is usually complicated and involves high costs. High-quality pet food Brit Care has been developed to protect the dog's body from negative environmental influences. The basis of the food is carefully selected high-quality ingredients such as lamb, salmon, herring, duck, and rabbit. They form a balanced, hypoallergenic recipe that prevents food intolerance and is easy to digest. Brit Care also contains functional ingredients that increase immunity, improve overall fitness and help eliminate the risk of serious illness.
Feeding Instructions
Please pay attention to your dog's daily ration of the recommended food to get the ideal weight gain of your dog and prevent overweight. Your dog should always have an access to fresh water. The balanced dog food has to contain all nutritious elements necessary for healthy development of pets. Organic substances — fats, proteins, and carbohydrates — are necessary for energy development. In addition, they participate in the hemopoietic processes and also regulate work of some organs.

Additional Information
Additional Information
| | |
| --- | --- |
| Weight | N/A |
| Weight | 1 KG, 12 KG, 3 KG |
Ratings & Reviews

Write a review